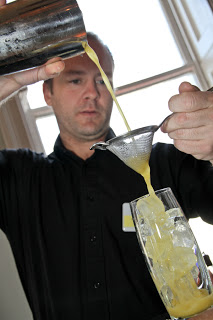 We're feeling very happy in the Dynamic Bars offices today. Business is gathering momentum in the right direction and we have a sunny weekend on the way – life is good!
Tuesday evening was a great success and we had a lot of fun at the LondonLaunch:Learn session at Asia House.
As an interactive element to the proceedings we invited guests to get behind the bar and make their own drinks under the watchful eye of our bartenders. How refreshing it was to get people involved in the production of drinks – and also, I dare say, quite an educational eye opener for those that did give it a shot as few people really grasp what it is to work behind the bar.
Thanks to all those that were brave and adventurous enough to take a hands on approach to making sure they had a delicious Dynamic Bars libation in their hands – hope you enjoyed yourselves. Also – a special thanks to Natures' Choice,  Anyware Hire,  Fantastic Productions and our amazingly cool bartenders who helped us to put on the showcase. Your continued support is invaluable to us.
So this weekend, Dynamic Bars staff will mostly be drinking:
Fig and Rosehip Cooler 
35ml Cognac
10ml Rosehip Syrup
40ml Orange Juice
10 ml Creme de Figue
2 Cardamon seeds
Method
Muddle cardamon seeds in boston glass and add all the ingredients together with cubed ice. Shake vigorously and double strain into a hi-ball over cubed ice. Garnish with orange zest and sip whilst enjoying some networking.